As spring approaches, you may consider preparing your RV for camping season. After an extended storage period, your mobile home may need special attention before getting back on the road. Like with other automobiles, you need quality RV inspections, maintenance, and care services to avoid breakdowns on the road. Here is an insight into how RVCarePros can help ensure your motorhome is in top condition for a hassle-free spring travel season.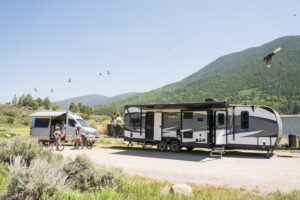 Inspecting the RV Exterior
Quality RV inspections often start with the exterior. A thorough visual assessment of the roof's general condition involves checking the skylights, roof vents, and air conditioner cover. Special attention is given to sealants for signs of peeling or cracking. During RV springtime inspections, any cracks and dents in windows, compartment trims, moldings, and access doors will be located and fixed.
Applying sealant can help deal with minor holes or dents to prevent further damage by rodents and harsh weather. Consult the technicians from RVCarePros on compatibility and use of different sealants for major exterior defects. Lubricating the locks, hinges, and moveable parts is another simple yet important part of RV maintenance.
Inspecting Your RV Tires
Proper RV inspections involve checking tires for wear, tear, and punctures. You need a careful eye to identify worn-out tires with cracks and potential puncture sites. Though most RVs have heavy-duty tires with a long tread life, it is worth checking their tread depth and assessing any damage.
Old tires need replacing as they are prone to blowouts that can be costly and dangerous, especially on unfamiliar terrain. The inspection also checks for proper tire pressure. RV tire inspections are crucial for a safe and smooth journey on the road.
Examining Your RV's Battery and Electrical System
Another priority on your spring RV inspection checklist is assessing your RV's battery and the power connection to various appliances. You will need confirmation of a sufficiently charged battery and a working electrical system before hitting the road. A quick check on the dashboard monitor gives an overview of the electrical reading when not plugged into an electric outlet.
A voltage test will help you obtain a proper battery diagnosis using a multimeter. The test involves attaching the black end of the multimeter to the battery's negative terminal and the red end to the positive terminal. A reading of 12 volts indicates a fully charged RV battery which is enough to power your interior lighting, monitor panel, and accessories.
You can also check for the battery's specific gravity with the help of an RVCarePros professional to ensure your mobile home's power source is in top condition. A 110 v power source helps assess the wall outlets, electrical appliances, and Ground Fault Interrupters (GFI)
Performing Liquid Inspections
A working RV plumbing system is key to a fun-filled camping experience. Quality RV inspections often check for water leaks or blockages in faucets, toilets, and supply lines. With the warm onset of spring, you can consider de-winterizing your RV with the help of experts and RVCarePros.
If there's a foul smell or taste in running water, there are products available to deodorize and sanitize the whole system. It is also crucial to ensure the grey water and black water valves work flawlessly. RV care also involves checking fluid levels in the power steering pump, transmission pan, radiator, brake reservoir, and windshield washer tank. Depending on the RV's mileage, you may need a filter replacement and oil change.
Inspecting the Propane Tank
Propane RV inspections are critical to preventing fires during hot and humid spring campouts. It involves performing a liquid petroleum (LP) leak-down and operating pressure test. The pressure gears on the side of the pressure regulator allow for a quick inspection of gas leaks during the leak down-test. After turning off the grill and burner valves, a drop in pressure reading indicates leakage and calls for an entire system review.
Gas leaks can happen anywhere in the system but more commonly at connections and fittings. Leak detection fluid helps find the source of leakage. Checking the batteries in carbon monoxide detectors and smoke alarms also helps safeguard against fire-related hazards.
Get Ready for Spring With RVCarePros
Getting your RV ready for spring camping season is crucial before hitting the road. For professional RV inspections, maintenance, and care services, check out RVCarePros.