The Mobile RV Service from RVCarePros can help protect you wherever you may go. We offer many services to help you get back to your vacation. When you are on an RV trip, you don't want to deal with the stress of repairs — you want to enjoy yourself. Our goal is always 100% customer satisfaction. 
About RVCarePros
RVCarePros is family owned and operated. We take great pride in giving our customers quality service that comes to them and assisting with your RV repair and maintenance needs. We understand the importance of working with a company with honesty and integrity. You can get your repair or restoration from a reliable source.
Our mission is to get you back to enjoying your trip and spending time with your family rather than dealing with these issues. We try to keep things simple for you, from insurance, general maintenance, extended warranty repairs, and much more. We have the dedication and knowledge necessary to provide quality work for every customer.
Mobile RV Service We Offer
Our repair and restoration technicians are ready to help you right away. We offer multiple services to make sure you get back on the road and back to enjoying your RV or camper.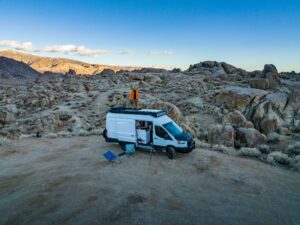 On-Site Mobile RV Repair
Calling a tow truck and having your RV hauled for service is expensive and inconvenient. Instead, our technicians can come to the campground, your home, or anywhere else within our service areas. Our technicians offer efficient mobile RV maintenance that saves you time and money.
They are RVDA-certified, and you can rest assured the job is done right the first time. We also strive to answer calls and emails as soon as possible. We will do our best to have you back up and running within twenty-four hours of receiving the service request.
We offer on-site service repairs on almost any part of your RV, including:
Air conditioners

Refrigerators

Furnaces

LP gas problems

Fresh water systems

Sewage/holding tank problems

Slide-outs

Roofs

Electrical systems

Hydraulic systems

Awning repairs

Water heaters
This list doesn't cover everything we do. If you have a question about how we can help, please call us at 904-297-1736.
On-Site Seasonal Mobile RV Service
We think it's easier to keep your RV weekend-ready. We offer on-site seasonal services like winterization and spring startup. Winterization can save you a great deal of money on future repairs, and we want to resolve all issues before your trip. Winterization may help solve common problems like burst pipes and severe damage to hot water heaters. These can create extremely costly repairs you can avoid.
Our technicians can prepare your RV and handle any problems they discover. They will let you know what's going on so you can make an informed decision about how to proceed. Our on-site seasonal service technicians help you be ahead of any potential problems rather than dealing with the fallout. Let us help make your experience stress-free.
Locations We Service
We offer 30 locations nationwide to help you get the service you need when you need it. Each site has a 60-mile service area, meaning we can travel within 60 miles of any service location to help you get back to enjoying your trip.
Our locations include:
California
Colorado
Florida
Bradenton

Brooksville

Cape Coral

Davenport

Daytona Beach

Dunnellon

Gainesville

Jacksonville

Labelle

Miami

New Port Richey

Ocala

Ormond Beach

Palm Coast

Plantation

Saint Augustine

Tampa

Weirsdale

Zephyrhills
Georgia
Augusta

Hahira

Savannah

Valdosta
Iowa
South Carolina
North Carolina
Tennessee
Travel Stress-Free With Our Mobile RV Service
Traveling in an RV or camper is a lot of fun when everything goes right. However, these vehicles have a lot of equipment that can malfunction at any time. This is the last thing you want to worry about on vacation. You should be enjoying the sights, attractions, and company of your family and friends. You can stress less on your next trip with Mobile RV Service from RVCarePros.
You can contact us for any issues you have on the road. We can also help you prepare for your trip and handle any problems before leaving. You can reach us through our website or call 833-782-2731 to get the quality help you deserve. Our team is ready and willing to help.