Owning an RV is an exciting and awesome investment. It's your home away from home and it gives you the chance to travel the world and make memories with your family and friends. You have to show your RV tenderness, love, and care to make it last for a long time. Upkeep is an important part of being an RV owner.
Whether you are an experienced RV owner or new to the scene, one of the most important factors to consider is maintenance. Because you are constantly on the go, your RV will need to be checked more often than a regular vehicle would, but it is not only regular maintenance you need to perform. Weatherizing your moving home for each season with seasonal maintenance is equally as essential.
Different weather conditions can impact your RV if it is not properly maintained. For example, extreme weather can cause the water inside your RV to expand, resulting in your pipes busting or equipment failing due to floods. Let RV Care Pros keep your RV well maintained with our mobile RV maintenance team. Schedule an appointment with us, and we'll handle the rest.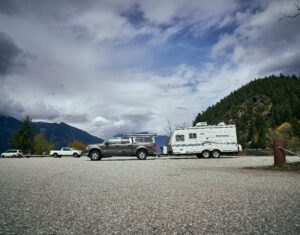 On-Site Seasonal Service 
When we've completed our travels, we often leave our RVs sitting outside and exposed to elements for days at a time, if not for months, without checking up on them. Exposing your RV to harsh weather conditions can lead to expensive and timely problems. Having foresight for RV summer prep before going on a trip can help avoid delays and further frustration. Our on-site seasonal maintenance services help prevent these types of problems from occurring, giving you the chance to start your next adventure sooner and smoother rather than later. 
The more traveling you do in your RV, the more you will realize the importance of regular maintenance as well as seasonal maintenance — and no, they are not the same thing. Routine maintenance keeps your RV roadworthy, whereas seasonal maintenance prepares your RV for the changing seasons.

Seasonal maintenance or RV summer prep includes the following:
Inspect the roof for any invisible cracks or peeling seals

Make sure the tire pressure is appropriate

Inspect the interiors for any rodents, corrosion, electrical mishaps 

Check the propane tanks and determine whether there are any leaks 

Inspect for any water damage or leaks 

Inspect batteries and replace any if necessary

De-winterize the system and flush the water system out (making sure there is no anti-freeze left)

Sanitize water tanks and lines

Examine smoke detectors and alarms 

Ensure the fire extinguisher is in working order
At RV Care Pros, we aim to make the entire experience easy and stress-free for you. As a result of being a mobile RV maintenance service, we will keep your RV in tip-top shape regardless of where you are or where you're going. 
Let's have a look at why our on-site seasonal maintenance service is famous amongst our RV customers:
Convenient
RV Care Pros offers on-site Spring and Winterization packages, giving you the chance to keep your RV adventure-ready. 
Gearing up for winter can seem like an overwhelming task for such a big vehicle, but it doesn't have to be. Let us take charge of your RV throughout the winter seasons. Our winterization packages will give you peace of mind when it comes to looking after your RV throughout the harsh winters. 
Stress-free
If you have a history of getting your RV checked too late or completely forgetting it, RV Care Pro's on-site seasonal maintenance service is for you, especially if you are concerned about whether the winters have damaged your RV in any way. We provide expert services on the manner and are guaranteed to have it fixed (if necessary) and ready for you before your first trip away.
Peace of Mind
Regardless of the season, we've got you covered. RV Care Pros offers a winterization and Spring package for you, making it the easiest decision of your life. We will winterize the RV and, when the time has come, perform a start-up for Spring. 
Reliable 
Over the years, we have gained excellent client trust and loyalty, and you can see why. We continuously have RVDA-certified technicians on-site, making sure that the work being done is accurate and error-free. 
Once you know your RV has been taken care of and is completely ready for summer, you can head off to your next adventure without a worry. Always remember, RV Care Pros care about you getting to your next dream destination safely, so when in doubt, contact us and we will be there for you and your RV.