Mobile RV Service & Preventative Maintenance!
Being an RV owner comes with many great responsibilities. You drive your RV to go on exciting new adventures and make lasting memories with your family and friends, but that can't happen if it isn't routinely maintained and serviced when necessary. 
It doesn't matter how long you've owned your RV. The most important aspect is to always remember to maintain your vehicle. Every minute you spend traveling in your vehicle is a minute closer to it needing its routine or seasonal maintenance. Routine maintenance is very important, but so is weatherizing your RV to make sure it is equipped for the next season on the road. Learning about the impact of different types of weather on your vehicle will help you understand what type of service your vehicle will need at which point of ownership. For this reason, it's important to have routinely scheduled maintenance and an emergency plan in place if repairs need to happen.
Yet unexpected accidents and unplanned problems arise all the time, especially when you're in the middle of a trip. If you're away from home, it might be difficult to get your RV into a shop to be repaired. Fortunately, RV Care Pros can help you if you're near our service stations.
Continue reading to find out what mobile RV services we offer for you. 
On-site RV Repair 
There is nothing more concerning than an unexpected problem occurring while on the road. RV Care Pros offer on-site RV repair within a 60-mile radius so the issue doesn't worsen or become an inconvenience. 
All you need to do is call RV Care Pros, and inform us of the problem at hand and where you are located. Once we have the basic information needed to get our team to you, we will not only save you time, but money, too. We provide this service because we understand the importance of quick on-the-spot repairs without having to go through the hassle of getting your RV to a shop (which might even prove impossible, depending on the type of repair needed).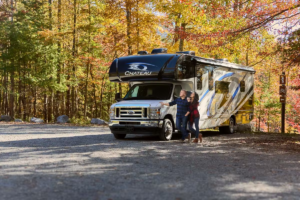 Our well-trained professionals can repair practically any part of an RV (except for the chassis, which we do not handle). Some of the other parts of the RV we can repair are: 
The roof

Refrigerators

Furnaces

Air conditioners

Water heaters

Gas or sewage tank issues 

Electrical systems and more
As a mobile RV maintenance company, we pride ourselves on: 
Efficiency
By taking the time to understand what the problem may be before getting there, we won't waste your time or money. We'll know what needs to be done by the time we make it to your location.
Punctuality
We pride ourselves on being timely. Answering all calls and emails as soon as possible is of utmost importance to us, but if all our technicians are busy working on vehicles and we miss your call, we ensure we will get back to you within 12 to 24 hours. In addition, RV Care Pros will also do everything in our power to have your RV working in no time. 
Trust 
RV Care Pros have RVDA-certified technicians. You're guaranteed that the job will be completed as quickly and correctly as possible the first time around. We appreciate the trust and loyalty our customers continue to provide for us. 
If you have any queries about our services, contact us today and we will gladly assist you. 
On-site Seasonal Service 
Many of us use our RVs as a form of daily transport, whether it be traveling from one destination to the next or stopping off at the shops when we get to our next pit stop. That often means that they're constantly exposed to different kinds of elements every day, which can lead to many expensive problems, including corrosion, damage, and more. RV Care Pros is a mobile maintenance service provider that comes to YOU to maintain your RV. 
Before you head off on your next adventure, bear in mind that you might need to equip your RV for seasonal changes, or you may require maintenance in the middle of the trip. RV Care Pros offer on-site seasonal services which help prevent maintenance issues from worsening or occurring in the first place. 
Our seasonal maintenance services assist in preparing your RV for the wet winter seasons or to get the RV back onto the road when the weather warms up. This will not only ensure your safety but the safety of your passengers and vehicle throughout the year. 
At RV Care Pros, we guarantee to make the maintenance process and overall experience easy and pleasant for you. All you need to do is schedule an appointment with us and we will get you back on the road in no time.