Owning an RV allows you to experience amazing adventures with friends and family. RVs come with unique accessories that ensure you are comfortable during outdoor excursions, and one handy accessory is the RV awning. It's easy to operate and plays numerous roles while on the road. Here is an insight into the available types, their benefits, and the RV awning repair services we offer.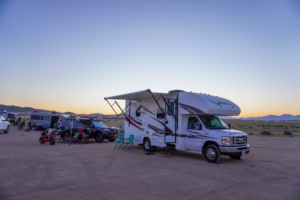 What Are RV Awnings?
RV awnings are a form of fabric that usually stick out from the side of your camper with the help of aluminum arm supports. One end of the awning slopes, allowing runoff of rain, dew, or any other precipitation. Some RVs come with preinstalled awnings, but there is a variety to choose from when considering RV awning replacement.
What Are the Different Types of RV Awnings?
There are two main types of RV awnings: fixed and retractable awnings. The fixed awnings are permanently attached to the RV over the windows and doors. They constantly protect you and the side of the RV against the weather. Fixed awnings may, however, fall over while driving and lack flexibility, which increases the need for RV awning repairs.
Manual RV Awning
The manual RV awning opens and closes using a torsion spring mechanism through an installed awning roller tube. You can use a manual switch to extend or retract the awning to any suitable position. Afterward, you can utilize the inner and outer arm supports to stabilize your awnings. You may need help in pitching your RV awning. Alternatively, you can partially pitch one side before going to the other to set up your RV awning fully.
Automatic RV Awning
Automatic or motorized RV awnings draw power from your RV to mechanically open or close. At the push of a button, awning arms extend and retract through a spring tensioning system from installed gas pistons. In case of minor power or motor fault, you can manually open and close these automatic RV awnings.
What Material Can You Choose for Your RV Awnings?
Both types come in different subtypes that require careful maintenance to avoid costly RV awning repairs. These subtypes include:
Acrylic Awnings
Acrylic awnings are one of the most common materials with a few unique advantages. This fabric impressively repels water and holds up well against different elements of weather. Acrylic awnings are also breathable, allowing for good air circulation. The material quickly dries but is not waterproof and may overstretch due to excess wind and water during strong rainstorms when left open. Extensive damage may require RV awning repair.
Vinyl Awnings
Vinyl awnings are another common variety that offers excellent resistance to fading and scratching. The fabric is also waterproof and limits penetration of UV rays, road grime, and pollution. Vinyl awnings, however, attract dust and dirt and sometimes encourage mold or mildew growth when neglected.
Which RV Awning Accessories Can You Add?
A few accessories you can install to complement your RV awnings include:
LED Awning Lights
LED bulbs are an efficient and cost-effective light source for enhancing your camping experience. You can creatively install different colors and LED light patterns to achieve different moods. Most LED lights enable you to adjust the light to a powerful bright reading light or a mellow and relaxing glow at night.
Side Blockers and Sun Blockers
RV awnings do a fair job of shielding you from the hot summer sun. Adding side blockers and sun blockers improves the overall protective effect. The blockers come in a transparent variation that allows you to enjoy the splendor of nature without suffering a heat stroke.
RV Awning Mats
You can use mats within your awning area. These practical awning mats are useful accessories that provide a comfortable boundary between your resting area and wet or muddy terrain. The awning mats allow you to easily set up chairs and tables and avoid mounds, lumpy rocks, and uneven grass. This also allows you to customize your surroundings by adding stylish color.  
How Do You Care for Your RV Awning?
Although your RV awning is designed to withstand different harsh weather conditions, it requires proper maintenance to ensure long service life. A few simple and timesaving RV awning maintenance tips include:
Secure your RV awning properly before setting out on a trip.

Avoid rolling up your RV awning when wet.

Wash your RV awning a few times every year with water, soap, and an abrasive brush

Fold your awning during strong winds to minimize damages
Let RVCarePros Fix or Replace Your Broken RV Awning
You may need RV awning repair after developing a tear, refusing to open, or getting stuck while retracting. Sometimes, the damage may be too severe, demanding RV awning replacement. The professionals at RVCarePros can help you solve different on-site RV problems you may encounter.
We can also help you with problems with your hydraulic system, slide-outs, A/C units, electrical system, and refrigeration. Contact us now to enjoy top-quality RV maintenance and repair.